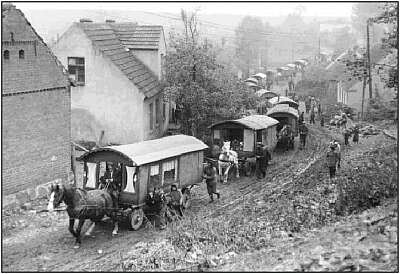 Researching my kin who were travelling showmen and women with their carousels, swingboats and side shows for Painted Ponies and Steam Horses last month, made me think of this beautiful song written by John Tams. I first heard a wonderful recording of it by English folk singer June Tabor on her first solo album 'Airs and Graces'
(1976)
.
While you're tracking down a copy of this gem, you're pretty much stuck with my version! Sorry!
If my fairground folks hadn't lived in Yorkshire and the North of England, but over the Atlantic, they would have been at the heart of the "carny" community.
This song resonates for me not only because of my travelling kin, but also because of my generations of "water gypsy" forebears travelling the waterways and the fact that my own mother was born in the summer while the local "feast" or funfair was set up on a field in the middle of our village. Her older siblings were sent off to play at the "feast" by my gran as she went into labour! The travellers used to come to my gran's when they were passing through, and she and my grandfather always spoke about them with warmth and respect. My Mum remembers being shown into their immaculate caravan home when she was a child before WW2.
While our situations were different, my heart goes out to the residents of the Dale Farm community who have been refused permission today to appeal against a High Court ruling giving the local council permission to evict them. The same laws of the land that told them to get off the road and buy that land, now threaten them with homelessness. The end of the road for travellers feels like the end of everything. Stay strong!
Pull down, lads,
Pass the bevvy round, lads.
Tara to Sylvie, tara to Jean,
We'll soon be on the road.
Don't think on what you're leaving,
Don't think on what you've found;
Just tear off the tilt, pull out the chat,
We'll find another ground.
Pull down, lads,
It wasn't a bad ground, lads.
We've made some brass, you've had a lass,
Perhaps as well we're going.
I know how it can hurt, lads,
To leave her standing here;
For there's often fears
And there's always tears,
But you'll be back next year.
Pull down, lads,
The sets are cooling down, lads.
The Ark's all packed, the Dodgems stacked,
A bite of scran then go.
We'll leave it as we found it;
They'll soon forget we've been.
For we trade in fun, and we go and come,
We're often scorned but seldom mourned.
O, I hope you know what I mean.
Words and music (c) John Tams
Glossary:
bevvy - 'beverage', a drink, often alcoholic
tara - goodbye
tilt - tarpaulin roof
chat - thingummy (usually whatever you're pointing at!)
brass - money
sets - generators (in my fairground ancestors' day the rides would be driven by a steam traction engine)
The Ark - amusement ride based on Noah's Ark
dodgems - amusement ride with bumper cars
scran - food